Sadly paperbacks are falling out of favour and being replaced by DVDís which are traded in most anchorages.† Trading is also a way to meet your neighbours. You will need a supply (neighbours or DVD's) as there will be times when you are stuck inside by weather.

Donít blow down the waterway to get to the Bahamas or you will miss hundreds of small town museums and art galleries, some of which are excellent like the gallery in Canajoharie, NY, the submarine museum in St.Marys, GA and the terrific museum in Beaufort NC that even provides a courtesy car for cruisers.



When you get to Elizabeth City, NC you will be welcomed to the free docks by the famous Rose Buddies, try the curious little local movie theater where you can have an inexpensive dinner while watching the show. Write to each state tourist office and ask for a package. They will be happy to send you tons of great info with something for every taste. I never thought much about birds before making this trip but the bald eagles, one golden eagle, sandpipers, owls,

woodpeckers, small

green parrots, egrets, ibis and hundreds

of others that start to appear in the Carolinas are much more enjoyable if you have a good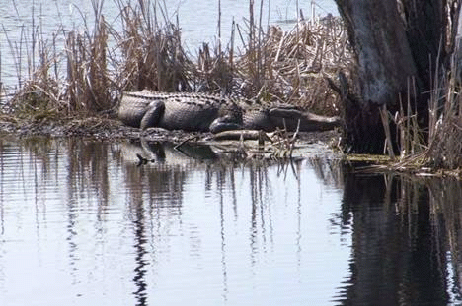 No swimming ! These can be very entertaining if you get within striking distance... won't be doing that again anytime soon.
birders book along. A couple of good wild life books will also make the otters at Jekyll, the bears and pumas on the St.John, nutria and wild pigs on the Okeechobee more interesting. A little knowledge of amphibians

will make the fascinating alligators even more so. A good colour guide to salt water fish is a big help as its sometimes fun to know what you are eating

.


Cruising the Chesapeake a few years back I happened to re-read Chesapeake by James Michener. What an absolute treat to read one of my favourite books while surrounded by the story. I started seeking out books related to the areas we were cruising and ended up reading Pat Conroyís Prince of Tides and Where the Water is Wide while cruising the barrier islands around Charleston. In the Florida Keys we read Carl Hiaasen and MacDonald. Search out your favourite flavour for your cruising area and you will be surprised at how the stories come to life when you are surrounded by them.
The best entertainment on the water are your fellow cruisers and the people you will meet in smalltown USA. Just remember that if you are driving a wake machine those nice people you met at Waterford, NY. will not be inviting you for sundowners in the Wrightsville beach anchorage. Word quickly spreads along the waterway about who the idiots are and they are not made welcome by other cruisers.

You will meet people in Oswego and run into them again in Atlantic Highlands then Beaufort and again in St.Augustine. By the time you get to the Bahamas or Dry Tortugas you will know most other cruisers. Be generous on the waterway. If you have a part that someone needs, offer it freely (next week it may be you). If you see Capín Ron struggling to rebuild his dinghy motor wander over and offer a hand. If you donít know anymore than he does, take him a beer.

We and a number of others were badly waked by a Carver 570. We caught up to him a week later high on the rocks at Beaufort Ö.. no cruiser stopped to help but a few did send congratulatory messages over the VHF.† When a sailboat caused BASRA a large expense in the Abacos and refused to make a contribution, they were blackballed in Marsh Harbour. Just like real life everything you do on the waterway will sooner or later come right back to you.
If you like excitement, just try to get out of Annapolis on opening day of rockfish season. Keep abreast of all the local fishing news with local newspapers you can pick up anywhere. Any river mouth, inlet or sound will provide all the entertainment you could hope for if you make the mistake of traveling during a fishing tournament.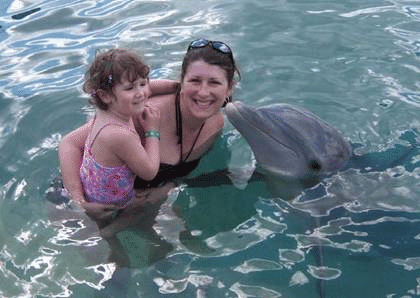 Best of all when the kids come to visit.