Our favourite US chain is "Piggly Wiggly" These stores are generally
found in black or Hispanic neighborhoods, sell parts of pigs I didn't know pigs had and are inexpensive. They also carry lots of other foods I've never heard of ( I like to experiment ) which is why we like them so much. They will also give you a ride back to the dinghy dock.
If you run low before crossing to the Bahamas stock up again in Florida. On Grand Bahama prices are moderately higher than the US but prices in the Abacos are much higher. e.g. Conch was $2.50lb. in Lucaya but $8.00lb. in Marsh Harbour. Beer, pop, cookies and snack foods are very expensive anywhere in the Bahamas so stock up on these in Florida where beer is almost as cheap as water. Rum prices are pretty good throughout the Bahamas and there are some very cheap off brands, they are called "off-brands" for a reason however.
Free food -
If you are a seafood fanatic like me you can eat very well on this trip with little effort and very little equipment. A heavy rod and a trolling reel,

 

heavy rubber gloves, two types of lures with 100lb. test and a pole spear for lobster although you can catch lobster with just a pair of heavy rubber gloves as Caribbean spiny lobster do not have claws.

Tom Assenmacher shovels oysters on to the table in his
front yard on the
Yeocomico River. Tom & Kaye run the
Alberg 37 Association website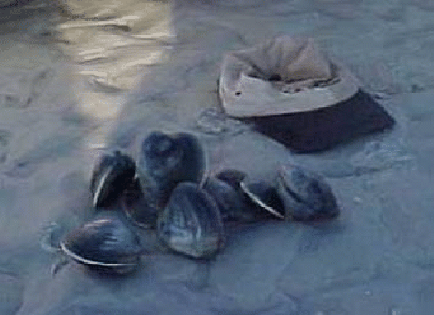 Huge Georgia clams next to my hat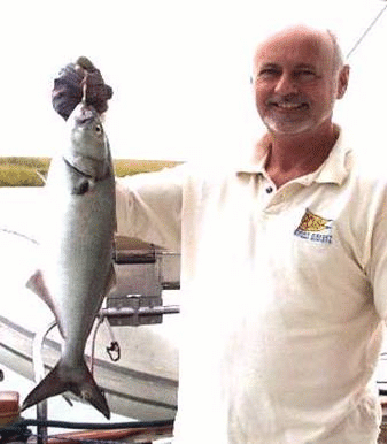 Delaware bluefish
Oysters, barnacles, conch, mussels, crabs, lobster, mahi, sea bass, flounder, grouper and several different types of snapper are available with a little effort. I have no interest in sport fishing but do have a great interest in sport fish eating. Whenever we are in salt water we drag a lure behind us, we tried dragging it in front but that didn't work. E

ven at 8 knots we

manage to snag something. I know nothing about fishing but it never made sense to me to troll at 3 knots for fish that can hit 30 miles per hour so we never slow down to fish.

 



We use only two kinds of lures, a

 

4" plastic squid or a 6" cedar plug and both of these can be purchased at any Wal-Mart. We never use bigger lures because The effort and mess of cleaning a 30lb. mahi is just too much. A 10lb. mahi is the perfect size for cleaning and the work involved in getting it aboard is reasonable. We trail a 100lb. test line with a steel leader (mahi have incredible teeth ) not because I want to catch anything that weighs 100lbs. but because when we do get a bite we don't slow down to fight it we just drag it aboard. Sometimes if you are lucky lunch will jump aboard.

 

We have picked flying fish off the decks and were once bombarded by a school of squid jumping into the dinghy.

From the Delaware down through Florida, blue crabs are easy to catch.

Take 100' string and tie on any kind of left over bone from lunch (pork chops, chicken wings) every 10', cast out the string and have a beer. Haul the string in every 15 min. and have your 5gal. bucket ready. The trick to landing these aggressive little creatures is to have your net in the water before you haul them up or they will release the bait as soon as they see the net coming towards them. Blue crabs are also known as soft shell crabs when they have molted and can then be eaten whole. In their hard shell state it takes a lot of them to make a meal.

Barry, the great lobster hunter from Burlington taught me how to pole spear lobster; unfortunately I shot more rocks than lobster and found it easier to just grab the little buggers by the antennae. Note: Bahamian fishing laws are chaning constantly. Play by their rules, it's their country.

Lobster are found under rocks, ledges, and along break walls. Often all you will see are long antennae sticking out…grab them ! If you get both antennae you have a better chance of holding on. We found many lobster in 5 to 6' of water very close to shore. Take them immediately back to the dinghy as small sharks or barracudas may try to steal your lunch.