Mooring Balls - As the intra-coastal is quickly becoming the intra-condo, more and more of the popular anchorages are becoming "mooring fields". Anchorages at Annapolis have all but disappeared but the moorings are secure and well maintained though expensive considering you are bringing your own bed. The 79th street field at Manhattan is rough but secure and Verobeach has made all cruisers feel welcome even with three boats to a ball it is a cruisers favourite. Many others are poorly maintained and not to be trusted.
You'll know them when you see them. One of our favourite places is Beaufort NC. Unfortunately this anchorage has bee taken over by squatters. Private mooring balls have been installed on public property and they have the nerve to charge for their use. Most of these are homemade jury-rigs, don't waste your money.

Photo at right - this guy took a mooring ball near where we had anchored. After a rough night it seems he preferred the parking lot.

Docks, free and otherwise -

Many of the cruising guides will direct you to free docks but these too are disappearing or having restrictions placed on them. Barefoot Landing was a cruisers favourite for years with 700' of free dock space - no more. Free docks abound on the NY state canal system and the

Dismal swamp

route always welcomes cruisers with the crème de la crème being Elizabeth City NC

where for decades Fred Fearing (deceased) and his "Rose

Buddies" have been welcoming cruisers with free docking, roses or cotton balls out of season for the admiral and almost daily wine and cheese parties. We always looked forward to spending time with Fred who was a gentleman and a fascinating guy to spend a day with.



You will quickly find that there are towns that welcome cruisers and a few that don't. Spend your cruising buck where you are appreciated ie. Any small town on the New York State Canal System, Toms River NJ, Cape May MD, Chesapeake City MD, St. Marys GA, Verobeach FL, LaBelle FL, Beaufort NC, Beaufort SC. Jekyll Island SC and extra special mention to St. Marys GA , LaBelle FL, Verobeach FL, Jacksonville FL and many others you will discover on your own.

Some free docks are a bit rough to say the least but they are there if you look for them. We have also been welcomed to a number of private docks by our generous southern neighbours. Make sure you wear Canadian flags on you cap and t-shirts. You'll be amazed at the reception you get. We have been offered homes while people were away on vacation, been driven a

hundred miles to get a rental car and been loaned cars many times by people we had just met. While buying a coffee pot in Beaufort NC the sales lady asked if we were cruisers and had we walked all the

way to her store. She thought that was too far and suggested we take her car for the day and

"could you please have it back by

6:00

".

Encounters like these make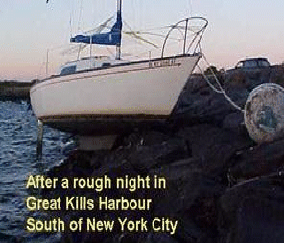 up for

the f

ew difficult days. Many restaurants will provide free overnight docking if you buy

a meal and curiously many of the waterfront restaurants are surprisingly inexpensive.US portions are so big that Laura and I often split a meal.

Once in tidal waters you will often be tying up between pilings rather than a dock, or if it is a dock it may be fixed so that 9' tidal range can be a problem in securing the boat. When approaching a new place for the first time, stop the boat for a minute and watch what happens in the current as this will give you a clue as to how to approach.
When approaching an unknown dock on the lakes we prefer not to have the part timer working the gas dock take our lines as most don't have a clue. On the east coast however, they have salt in their blood, they know their currents and tides and their advice on approach is well worth listening to.

If you belong to an Owners Association or are well known on any of the cruising chat forums let it be known that your are cruising south. Not only will it get you a couple of free docks but you will also meet some people from common ground (water). 
Paying $2 -$5/ft. for docking everynight in a marina for nine months is beyond my budget, but there are many who do.